So I've been working on a few things.
I've been working with a snowboard company called "FLOW" from San Diego, helping design a board for their 2011 line. That's going well - you can see my most recent submissions a couple of posts down.
I did a bit of freelance work today (FINALLY) for a wonderful company called Medallion Gallery Rugs. They're a high end rug company on the corner of Newbury and Clarendon Streets, and I must say that the people who run the shop are fantastic. They were more than accommodating to my needs, getting me ladders, paper towels, and I even had the general manager help me a little because I was too short. I was on a 20-foot ladder for most of today, and I didn't realize until now that my fear of heights starts at 15 feet. haha. Either way, Amir and the people there were just great, so if you're over by H&M on Newbury, go check them out! I even got a $50 bonus for being awesome, so I bought myself some earrings and a small vinyl toy (the last one on the right):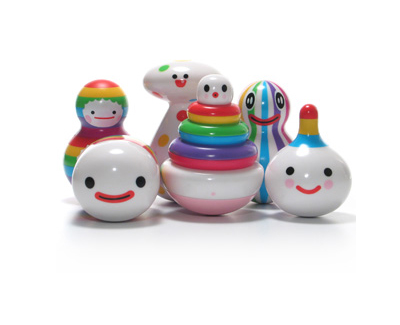 Along with this, I've been getting my Degree Project finished along with my final portfolio. As of now, I've got my 3 promotional postcard ideas figured out. Now I just have to commit to a new business card, which I'm working on. I'm also trying to decide on text placement for this next piece. Opinions? Which one's your favorite?
Still trying to get my comic going, still trying to get my website up. There aren't enough hours in the day! Seriously! I can't wait until it's spring and the sun is out longer - it'll trick my brain into thinking I have more time to do all the things I want to do.
In other random news!!! I learned how to use packing tape transfers, thanks to Bob Maloney! They're AMAZING. I'm pretty much obsessed with that, at the moment, and I'm going to use them for everythinnggg.
And lastly, I'll be making a portfolio blog to post all of my final images on. I like using this blog to say my silly things in, but I know I need a better gallery for my finishes until my website's up. Along with this,
http://www.grin-grin.com will soon be obliterated.
I'll be opting for a more big-girl name, www.bamcatart.com. So look out for that! Change is a brewin'!
To conclude, here is a picture of my boyfriend, Jared, being unbearably cute. I've been staring at this picture all night. He's coming to visit Friday night for Valentine's Day! I haven't seen him in 3 weeks! It will be wonderful. <333